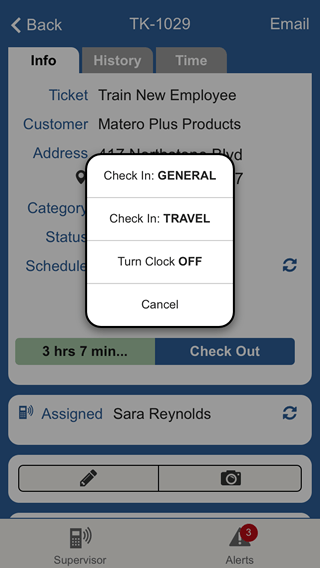 10 of CleanGuru's Janitorial Timekeeping Software Highlights
The FREE CleanGuru app offers a janitorial timekeeping software which makes timekeeping simple and accurate

Cleaners can clearly see their schedule; 'when and where' they'll be cleaning

GPS Geofence gives cleaning business owners control and is easy to set up

When a cleaner is late or signs in 'outside the geofence', an alert can immediately be sent to notify the supervisor

Hours are conveniently recorded and stored in timesheets as employees 'sign in and out' using their Smartphones

Connected! With our janitorial timekeeping app you'll love being able to click 'Ticket #' on a timesheet to see the work ticket the employee was signed into

Cleaners can instantly ask a question or report a problem by just tapping 'Supervisor' on their phone to connect by call or text

Assigning certain buildings to certain supervisors lets you control 'which alerts they'll receive' and 'which timesheets they'll see'

Plus, on our janitorial timekeeping app, only staff support personnel you designate can change/edit timesheets

Finally – approving timesheets and generating detailed payroll reports is a breeze
Complimentary Scheduling & Timekeeping
Bidding, Invoicing & Inspecting not included
No Charge
Up to 5 Cleaners
'Cleaner Doesn't Have Smartphone!' 'No Internet Connection at the Building!'
Relax, no worries! CleanGuru has got you covered.
Within our janitorial timekeeping software, you're going to love how quick and easy it is to use our Alternative Check-in feature in both of those situations. That's right, anytime you…
1) have an employee who doesn't have a Smartphone, or
2) have a building where you can't get internet connection…
Alternative Check-in comes to the rescue!
All you need to do is assign a phone located somewhere in your client's building – maybe in the front lobby or receptionist's desk – to be THE phone cleaners can use to call in and access CleanGuru Timekeeping to 'Check In or Out'.
The cleaner will get a special phone number to call and PIN # to enter – to access the timekeeping app using the assigned phone. They'll be prompted to 'check in or out' – simple as that.
Finally, without a smartphone or internet connection – your cleaners can still easily 'check-in and out' of the buildings they clean. Plus, supervisors will be able to know the cleaner is on the job, ready to clean.
As Seen On: